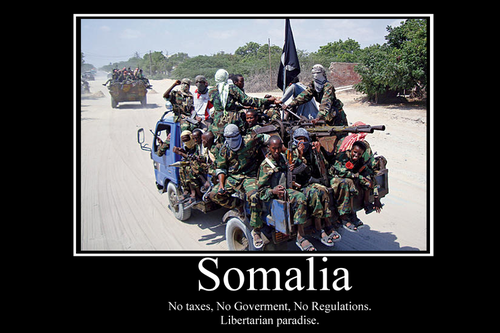 The Internet is now flooded with conspiracy theorists and 'freedom fighters', radio stations, Alex Jones, Stefan Molyneux and all sorts of anarchic libertarians shouting "FREEDUMB!" from the roof tops.
An easy way to win the argument - just mention Somalia, a country with no state / no government, no taxes, no regulations, and yet it's a bloody war zone with massive poverty. That's what ABSOLUTE FREEDOM looks like - it's WAR!! War is when I'm free to rape, pillage and plunder, and so are you, yay Freedumb!
If you look at any country whose government has broken down you will only find massive war and massive poverty, for example Syria, Iraq, Yugoslavia, Libya, and so on. So we are in a predicament where we have to fix our governments, but we can't get rid of them entirely.
Many of the people who would be interested in Meritocracy are currently being steered towards this Libertarian philosophy of "no government". We have to overcome this laughable concept with reason by showing the examples above, or any other examples you know of, and we can steer these people back towards Meritocracy or any philosophy that at least makes some damn sense lol